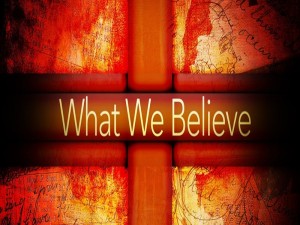 The apostle Paul regularly spoke about the importance of sound doctrine (healthy teaching), especially when writing to Timothy who was assigned the oversight of local churches.
See 1 Timothy 1:10; 6:3; 2 Timothy 1:13; 4:3; Titus 1:9,13; 2:1
* the Bible is God's unique revelation and that every word was supernaturally inspired by the Holy Spirit. The Bible is infallible, free from error, and the supreme and final authority for all matters of belief and behaviour. No other writings are vested with divine authority.
See 2 Timothy 3:16 and 1 Corinthians 2:13
* there is only one God, creator of heaven and earth, who exists eternally as three distinguishable persons – the Father, the Son and the Holy Spirit: each fully God yet each personally distinct from the other.
See Matthew 28:19 and 2 Corinthians 13:14
* all people are created in the image of God and matter deeply to Him. But man's disobedience toward God separated him from God and there is nothing he can do to attain right standing with God. All people are spiritually lost because of sin (disobedience toward God) and deserve judgment.
See Psalm 8:3-8 and Romans 5:12,18
* Jesus Christ is the eternal Son of God and the Saviour of the World.
* salvation is a gift of God received through repentance and faith in Jesus Christ. There is nothing we can do to make up for sin through self-improvement or good works. Only by trusting in God's offer of forgiveness through Christ can mankind be saved from sin's penalty. See Ephesians 2:8-9; Hebrews 9:12,22; Romans 5:11; John 5:24; 3:16; Mark 9:43-48;
2 Thessalonians 1:9; Revelation 20:10-15
* the Holy Spirit is equal to the Father and to the Son. He is present in the world to make people aware of their need for Jesus Christ. Also He lives in every believer from the moment of salvation. He gives power for living, understanding of spiritual truth and guidance for doing what is right. He also empowers believers with the gifts with which to serve the church in a lost and needy world.
* water baptism by immersion in the name of the Father, and the Son and the Holy Spirit is necessary in order to fulfil the command of the Lord Jesus Christ.
See Matthew 28:19; Acts 2:34-38; 19:1-6
* the baptism of the Holy Spirit is an important experience available to every believer. This baptism may occur at the time of salvation or afterwards. We believe that the Scriptural evidence of being baptised with the Holy Spirit is the ability to speak in other languages or "tongues".
See Acts 2:4; 8:14-17; 10:44-46 and Galatians 3:14.
This gift is given for the purpose of personal prayer, worship and edification. See 1 Corinthians 14:1-4,15 and Jude 20. The baptism in the Holy Spirit is not for salvation. It is a gift available for all believers to be used for their spiritual benefit, not as a mark of spiritual maturity.
* the healing of the body is by God's power as practised in the early church.
See Acts 4:30; Romans 8:11; 1 Corinthians 12:9 and James. 5:14
* in the Lord's Table, commonly called "Communion" or "the Lord's Supper" for believers.
See 1 Corinthians 11:28-32 and Matthew 26:26-28
* in the reality and personality of the Devil and eternal judgement in the lake of fire for the Devil and his angels.
See Matthew 25:41 and Revelation
20:14,15
* there is one true universal Church made up of genuine believers and comprising many churches in various localities each exercising autonomous government under the headship of Jesus Christ. Spiritual unity is to be expressed among Christians by love and encouragement of one another across ethnic, cultural, socio-economic, national, generational, gender and denominational lines. The Local Church is the hope of the world.
See Acts 15:22 and Matthew 16:18; 18:15-20